Hey everyone!
After a brief hiatus, Ladyboy Mint is back and better than ever! She keeps pretty busy over at her site, Long Mint, so its always a pleasure when we have the opportunity to spend some quality time with her! Today Mint is donning an outfit unlike any I've ever seen on her before and I can definitely say that it has my approval! Its a full body fish net suit, complete with some hot pink additions and best of all, a flog as an accessory! As I'm sure you all know, Ladyboy Mint has that shemale exclusive gift to always looks hot and sexy regardless of what she is wearing or doing. While this probably has something to do with her massive 9 inch tranny cock 😉 , it also means that a already hot outfit such as this, becomes insanely hot with a hot Asian shemale like Mint wearing it.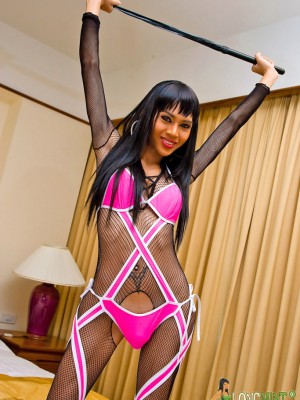 Looks like its time for the fun to begin, because Mint begins to pull off her hot pink panties and bra.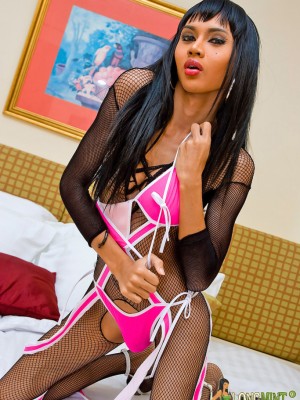 After getting a little more naked 😀 , Mint bends over and spreads her legs, her tranny cock is already hard and her ass has never looked better!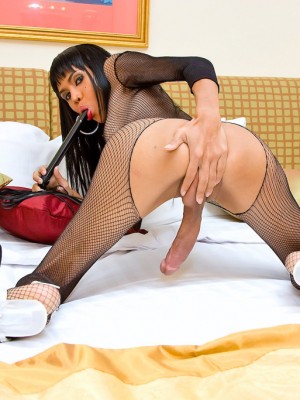 Mint, being the experienced tranny babe that she is, knows exactly what we want to see and gives us just that! While sucking on her flogger like it was a throbbing cock, Ladyboy Mint slowly begins to run her hand up and down her shaft.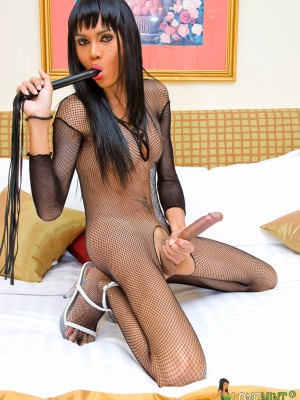 I've always been a big fan of fish-nets, what about you all? Even if you're not that in to fish-netting, I'm sure you can't deny how hot it looks on a Ladyboy as fine as Mint.