Hey Everyone!
I've got a bit of tranny love for you all before I head out the door today, featuring a Ladyboy babe from AsianTS, which of course, means you can expect quality! The shemale goddess we have the privilege of admiring this time around, is Ladyboy Jill and she is definitely worth taking a second and third and fourth.. look at, lol! Jill is one of the "true exotic" Ladyboys, who embrace their exotic heritage. One look at Jill and you may find yourself lost in a transexual spell of lust, I certainly know I was. Now, what makes this set even more hot, is that fact that not only do we get to check out Jill's hot shemale body, we get to watch her suck cock and get fucked! This is definitely one of the better Ladyboy sets we've featured on the Tranny Seductions Blog recently. But, as I bet you know, I have a tendency to ramble on about just how hot these t-girl babes are, so I'm going to stop myself here and let you check out the pictures!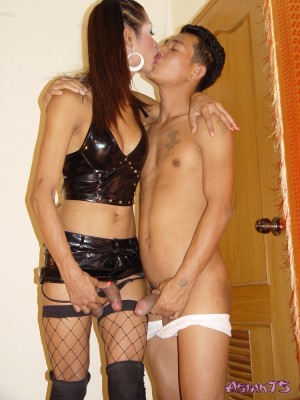 After getting herself nice and hard by a quick and firm jacking off her Ladyboy cock, Jill begins to suck her lucky partners dick!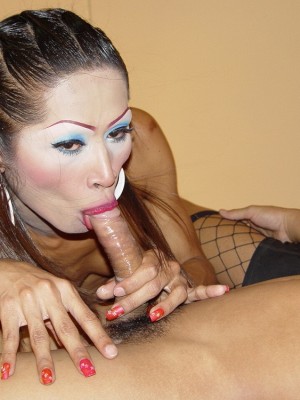 Next, is a type of shot we don't regulary feature on the blog, simply because you're limited in what you can see. However, this one was too hot to not post, see for yourself.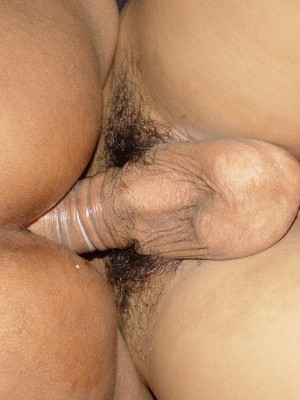 After a long hard round of fucking, Ladyboy Jill begins to quickly jack off her partner, getting him ready to blow cum on her firm Ladyboy thigh.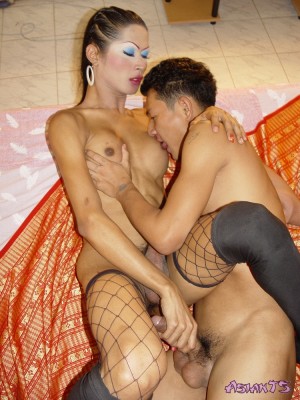 I do love a nice round of hardcore Ladyboy sex to start my day! The additional bonus of having a shemale as hot as Jill just makes the set all the more hot and dirty. What do you all think of Ladyboy Jill?