Today's post is brought to you by TS Seduction, the most rocking shemale hardcore site on the net!
Gia Darling is a very busy business woman, very busy indeed. So, for her to take the time to deal with a client personally is a very rare thing. However, Dorian is no regular client, no, he is the holder of a very large account with Gia's company. So, when he requested a meeting with her, Ms. Darling was more than happy to take the time out of her busy schedule to see him. However, Ms. Darling had no intention of talking about business. Gia Darling is a very horny shemale femdom, who loves to use the privacy of her executive office to have her way with whoever she chooses. This time, her choice, happens to be none other than Dorian himself. So while he comes to the meeting expecting nothing but formality, Ms. Darling comes expecting a whole lot more. So naturally, Dorian is quite surprised when she pulls his pants down and begins to jack him off.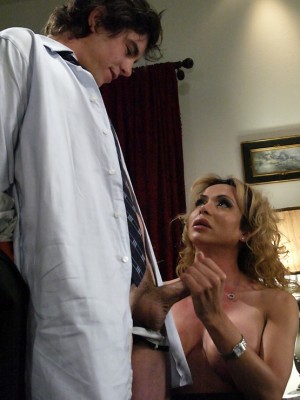 Like most shemale dommes, Gia starts by luring her malebitch into a sense of false security. She accomplishes this by giving Dorian a nice tranny tit job, something he turns out to be quite fond of!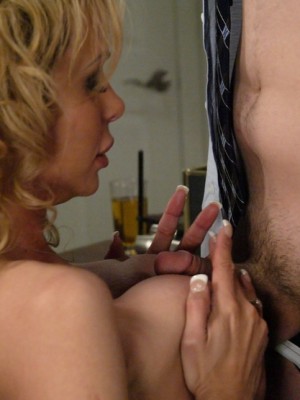 But all good things come to an end for the malebitch, as one second he's getting a tit job, the next he's handcuffed and getting a huge shemale cock shoved down his throat.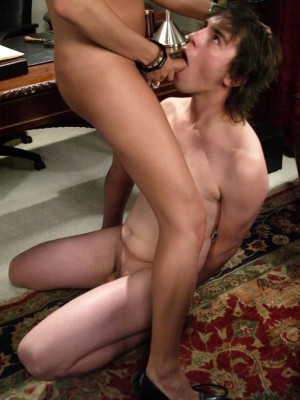 With Dorian now in total submission, Gia takes the opportunity to penetrate his ass deep and hard with her tranny dick.
So, all you business people out there. Try to have a smile on your face for that next big business meeting, who knows, you may get lucky and have a tranny waiting for you! 😉