Hey All!
Phil here, back to conclude with our official Tranny Seductions Blog, Danielle Foxxx double feature courtesy of that rocking ts bondage site, TS Seduction. Today, Ms. Foxxx is back yet again for more malebitch domination, this time, Steven is just a distant memory for our sultry tranny femdom. That's because her focus for this encounter is Diezel and the tame environment of the prison cell has given way to hardcore and dirty world of Danielle's private cellar. This is the place where she lures her unsuspecting victims so she can brutally ass fuck and dominate them long into the night. Down in this shemale dungeon, no one can hear the cries of the helpless men! But enough talk, lets get to the action!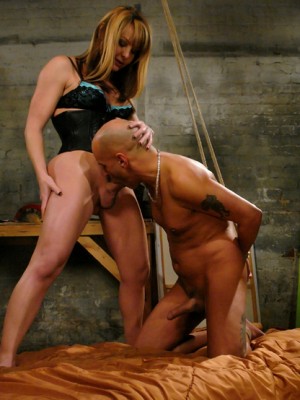 Our tranny femdom really goes to town this time around, not wasting any time with formalities. Diezel must not have been sucking her tranny cock off hard enough, because she forces it deeper into his throat!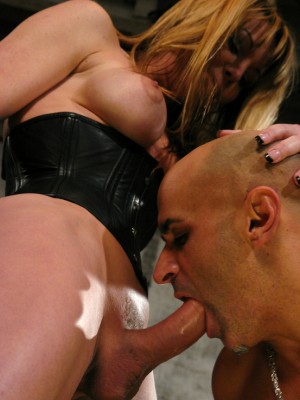 Diezel, like many before him, thinks that he can resist the domination of Danielle Foxxx. He, also like many before him, was horribly wrong. To punish his resistance, our shemale dominatrix ties him up like a filthy animal.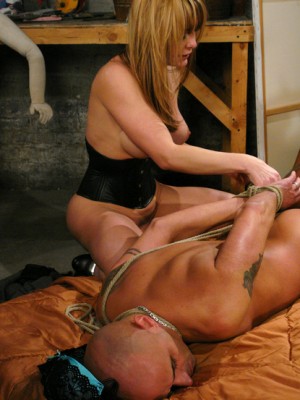 With his arms bound, Diezel can no longer attempt to break free or defend himself. So, with her slave in a vulnerable state, Ms. Foxxx moves in for a brutal tranny ass fucking that Diezel will never forget!
Hope you enjoyed watching shemale femdom Danielle Foxxx in action just as much as I did! That concludes our double feature here at the Tranny Seductions Blog. Keep checking back as I continue to bring you some of the best the net has to offer in all things shemale!