Hey all!
I've got something really hot and a little different you today. It involves that amazingly hot Asian shemale, Ladyboy Mint, a phone and her huge 9 inch tranny cock. After a day of working over at her site, Long Mint, Mint decides to have a little personal fun with some lucky guy on the phone. Thanks to my personal connections, we've got a nice front row seat to Mint winding down for the day as only a true Ladyboy can. As if a Ladyboy pleasuring herself from some hot phone sex wasn't enough, we get to watch Mint strip out of her skimpy outfit first. Even though we may not be lucky enough to be on the other end of that line, we are lucky enough to get to watch this hot shemale slut strip down.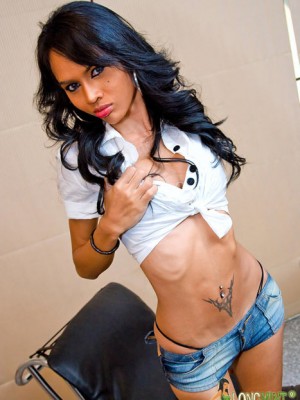 To get ready for her sexual fun, Mint takes off her top, then begins to slide down those tight little jeans shorts, giving us a NICE view of her firm ladyboy ass.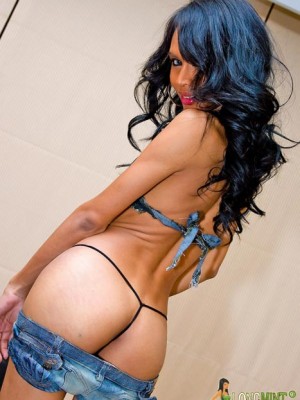 Looks like our shemale friend's call finally came in (I was getting anxious!). Mint leaves her hot leather boots on for increased sexual pleasure and spreads her legs wide open giving us a good view of the bulge growing underneath her panties.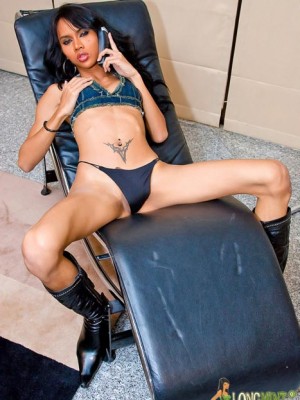 Things must be getting really hot on that phone, because before anyone knows it, Mint has stripped down and his firmly and quickly jacking off her huge tranny cock, all the while deeply moaning into the phone!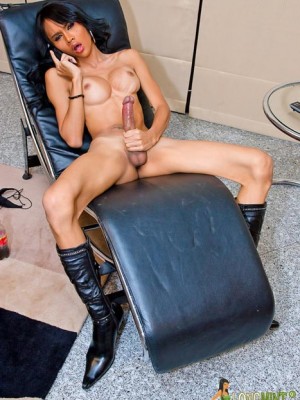 I would just love to be on that phone right now! 😀 Who would have thought that something as simple as phone sex could look this hot, of course, when Ladyboy Mint does something, its ALWAYS hot!