Hey all!
Today is a great day, we've got a smoking hot shemale domme coming straight from the kick ass tranny femdom site, TS Seduction. If you've never checked that site out, I cannot recommend it enough! Our shemale dominatrix for the day, is Deanna a feisty and gorgeous shemale dominatrix in a tight latex dress. The bright red color of Deanna's dress matches her inner fire and intense desire for some hardcore fucking! Sky Burn is her malebitch and he quickly becomes the newest victim of our shemale dommes fierce desires, as she not only belittles him, but fucks him deep and hard in the ass as well. Before fucking his ass, our shemale femdom ties him to a pole and makes Sky suffer for a little bit, just for her own wicked fun.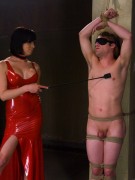 After releasing him from his rope bindings, shemale dominatrix Deanna forces her malebitch to suck her tranny cock.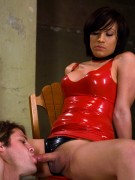 After getting her oral satisfaction, Deanna pushes Sky down onto the table and begins to pound his ass like only a tranny can!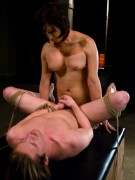 Deanna is no amateur and she only gets off when she shoves her cock deep into her reluctant slave's ass.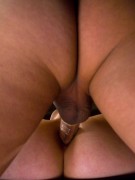 Shemale femdoms like Deanna really turn me on, I just love a girl who exudes that total "in control" vibe. What do you all think of Deanna? 😉