Hello shemale fans,
Today we're taking an especially dark turn here at the Tranny Seductions blog. We've got an Ebony Shemale Femdom, dominating her sex slave, deep in a dark dungeon. So things are definitely dark, but so very, very, hot. Our tranny domme for the day is Taylor, she is a gust transexual over at Foxy Angel Shemale Goddess. Taylor may just be a guest shemale dominatrix, but she leaves nothing to be desired. This tranny knows whats how and she knows exactly how to get it out of her slaves, be they willing or not. Like most tranny dommes, Taylor enjoys the process as much as the end result. So, I took upon myself to provide you all with some hot action from her dungeon!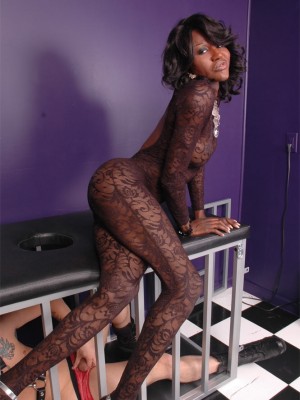 Taylor lets her slave out of his cage surprisingly quick, I was skeptical at first, until I saw her begin to spank his ass harder than I'd seen in a long time.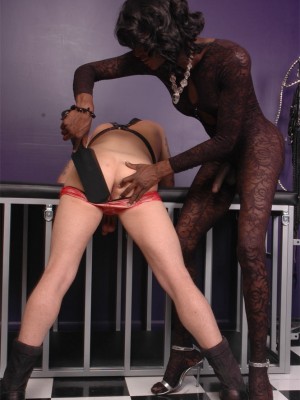 Like most of you I'm sure, I do enjoy a good chain-choker. Taylor gives us exactly what we want in a two for one shot. She yanks on her slave's chain, forcing him to submit like the dog he is, while all the while pounding his ass!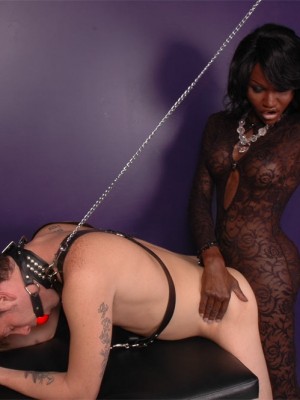 Taylor really gets into her hardcore tranny assfucking, which is fine with me, because this way we really get to see her expression as she verges on an explosive orgasm.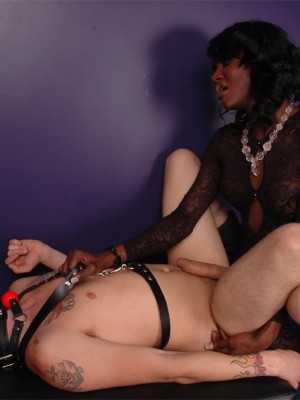 After a set as hot as that, I think I may have to spend a little more time scrounging around for some dark and dirty dungeon action for us! 😉