Hello hardcore tranny fans!
A few days ago, I created a post featuring a recent set from over at TS Seduction. If you don't remember it or weren't with us at the time, then you'll definitely want to check it out right here, especially since its a video of the action! But, in case you want to skip the video (which I don't recommend 😛 ) I'll give you a brief recap before we get to the pictures. Essentially, some fine tranny babes: Kelly Ohana, Karol Dias, and Carla Tavanes take their newest malebitches out of the dungeon and to a distant abandoned island. You may be wondering why a shemale femdom would willingly take her slave out of their element. Which, is a good question. However, what you need to keep in mind, is that this is a completely deserted island, so no one is around to help these guys as they are pulled into the seductive tranny web created by these transexual dommes. All in all, its kind of like a dungeon, just with different scenery! Below are some screens from the shoot, in no particular order, but featuring some very hot moments.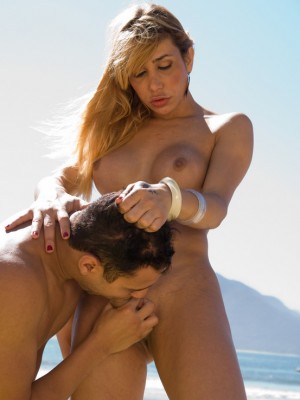 Looks like these two dudes are learning how to suck some serious shemale cock!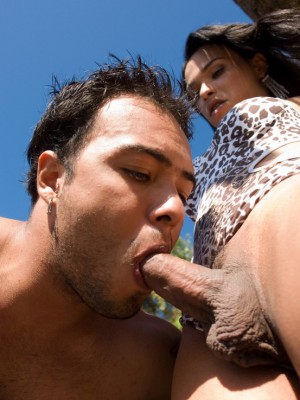 While those two are busy sucking cock, this fellow below is getting ass slammed by his forceful tranny domme.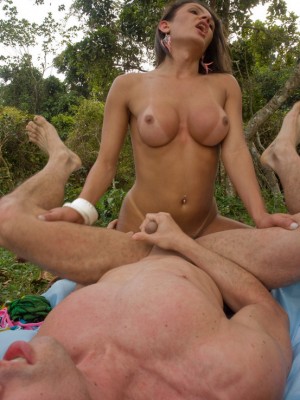 Now, for a little bit of a change of pace, looks like this guy got lucky enough to fuck his tranny mistresses ass just before the boat arrives.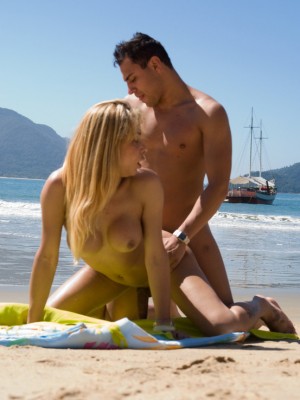 I've heard of island paradises, but I think would be borderline Heaven! What do you all think?