Hello everyone!
After a brief hiatus here at the Tranny Seduction Blog, the Legendary Shemale Goddess Foxy Angel is back, ready for some more hardcore action! I'd actually gotten a couple questions asking why I hadn't featured her recently, since I normally devoted quite a few posts to her. Well, have no fear Foxy fans, she is still just as hot and sexy a shemale as ever. I've just been very busy with a lot of new features on the blog and with some work issues, so I haven't been able to devote the time to all our deserving trannies! But lets not worry about that, we've got some brand spanking new Foxy Angel content right here on the blog, ready for all you tranny lovers to enjoy. Just keep in mind, if you get to missing Foxy Angel in the future, you can always check out her personal website Foxy Angel Shemale Goddess. Now, lets get to the transexual porn!
After surprising the mailman at the door, Foxy quickly seduces him into suck her massive tranny cock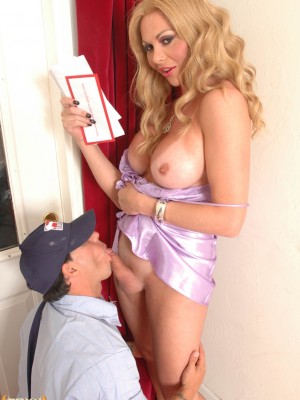 Not satisfied with simply being sucked off, our shemale babe prepares the fuck the mailman's unsuspecting ass!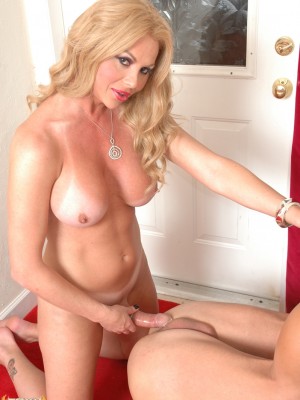 His virgin ass may be tight, but its not match for the force fucking that Foxy Angel's tranny cock gives it.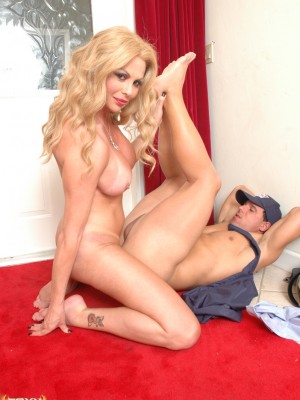 After a nice long and hard fucking, Foxy prepares to reward the mailman for his services by drenching his face in hot shemale cum.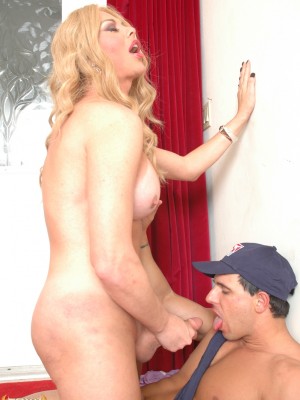 Makes me wish I had a hot shemale in my neighbor, you can bet your ass I'd be signing up to be a postal worker right away! 😉