Hello everyone!
Ladyboy Mint from Long Mint is back again here at the the Tranny Seductions blog after an extended hiatus. As you're aware, there's a lot going on here at the blog, so from time to time important things don't get as much attention as they need. Unfortunately, the blazing hot Ladyboy Mint was one of these things. Well, as a way off making it up to you all, I've decided to give this exotic Asian shemale her very own exclusive post. This of course means that the next installment in the Ladyboy Roundup will be pushed back til next time we meet, but I'm sure this will be more than enough to hold you over! 😉 Now, what makes this transexual reunion even more sexy, is the toy that Ladyboy Mint has brought out for us all to enjoy. Its best described as a dildo drill, because that's exactly what it is! A nice big dildo powered by a hand held power drill. Now that sounds like one hell of a t-girl vibrator to me! Leave it to Mint to take something as established as a vibrator and make it even better.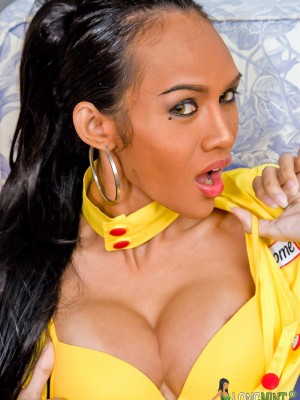 Mint is looking extremely sexy in those leather boots and that hot yellow outfit. Her hand and panties can barely contain that massive tranny cock of hers!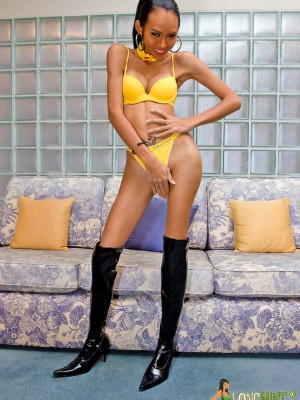 Now, we get our first glance at her newest "toy" that I had mentioned earlier. I bet your imagination is running wild on this one! 😉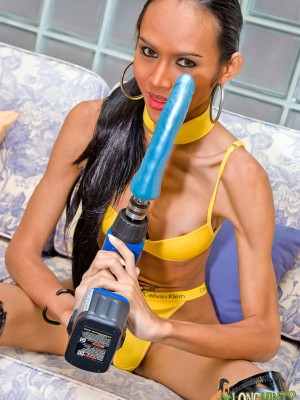 Now this next photo is truly and amazing transexual feat! Ladyboy Mint's cock is comparable in size to the massive blue dildo!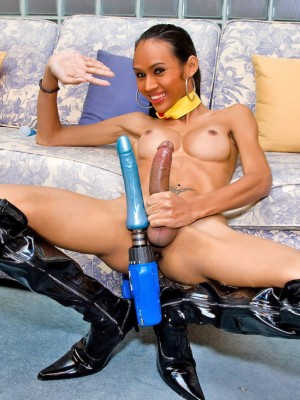 What did you all think of Ladyboy Mint's toy? Wouldn't you love to see it in action? I certainly know I would! 🙂 Its nice to see a little bit of Ladyboy Mint after all this time.