Hey All,
If you can remember, awhile back we featured the Hot Tranny Stripper Janira doing some hot and nasty pole stripping followed by a good hardcore fuck. If you don't remember, or weren't with us at the time, you should definitely check out that post right here. Now, this brings me to today, as after the success of the aforementioned post, I figured it was about time to bring out another hot Tranny stripper for you all. This time around, I bring you Nicole, another one of those fine shemale babes from over at Foxy Angel Shemale Goddess. Nicole is a very sultry transexual stripper who loves to do private shows for upscale clients who can afford her. What she likes even more is giving these clients even more than they bargained for by fucking them in the ass, whether they like it or not! You see, while Nicole may be a professional entertaining, she believes that entertaining herself is just as important. Sometimes just stripping gets a little boring for her, so naturally, she decides to jack things up a notch! 😉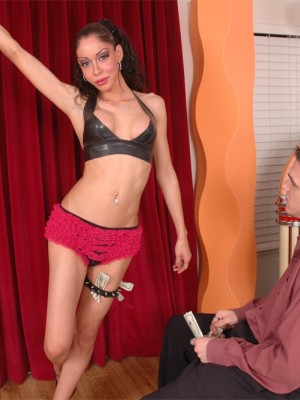 Here, the client things he is getting amazingly lucky as he showers the shemale stripper with cash. Just look at Nicole's face, we all know what is about top happen!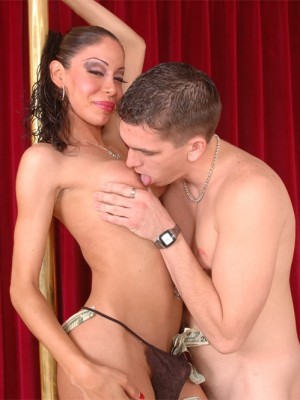 Just like we thought! Nicole took his sorry ass off guard and began to pound him from behind like she means it! Looks like this show just turned around 😉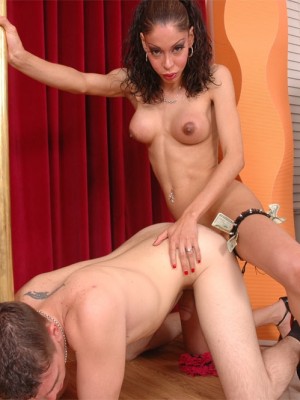 As a final act of dominance, Nicole prepares to blow her tranny load all over her "client's" face.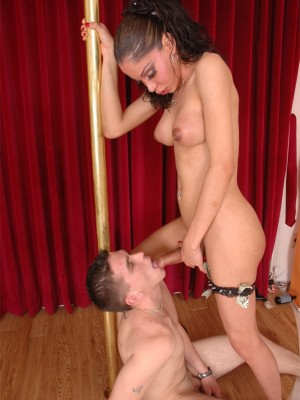 Kind of makes you wonder who was in charge from the beginning doesn't it? 😉