Hey people!
Well, I got to thinking earlier today, about what's been going on here lately at the Tranny Seductions blog. As always, things have been really busy, with a lot of behind the scenes action. As you know, this is still a very young blog and I've got a lot left to learn, but I'm hoping, that over the summer, you'll get to see a lot of awesome new stuff here. So as always, keep checking back, because the blog is getting closer and closer to moving out of its "beta" stages! Anyways, enough of me rambling about technical stuff, this blog is about shemales! So, my point, was that in my bustle to improve the blog, I sometimes don't pay as much attention to some of the deserving t-girls out there. In my opinion, Ms. Foxy Angel, from Foxy Angel Shemale Goddess, just so happens to be one of those fine trannies. Granted, I've featured several of her guest shemales lately, but I think its time to pay some proper homage to Ms. Angel herself. So, on that note, the Tranny Seductions blog is proud to present you part one of an all Foxy double feature! Today Foxy is doing one of the thing she does best, playing the part of a hot transexual school girl.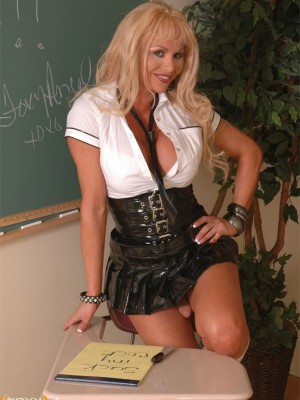 If you're like me, one of the first things you noticed, was that this time around our shemale schoolgirl was wearing a very sexy leather skirt. If so, you'll really enjoy this next photo! 😉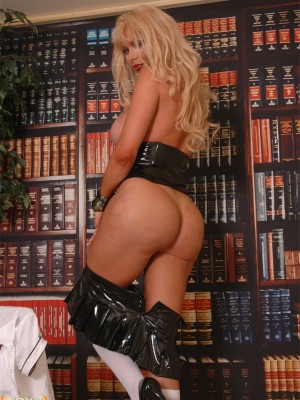 I always like surprises, so of course I enjoyed Foxy Angel in a nice leather school skirt. However, as always, I love see her bare tranny cock oh so much more!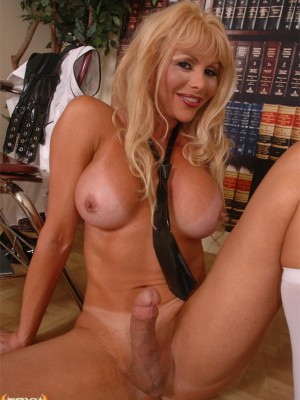 Foxy must be feeling especially naughty after wearing that skirt, because she decides to not only jack off her tranny cock for us, but she's about ready to blow her hot shemale cum all over the desk!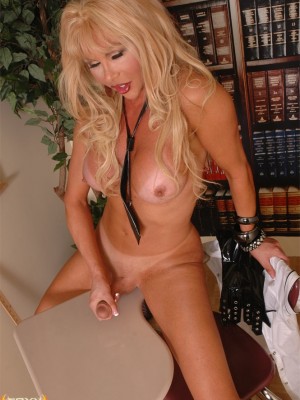 That *really* got me hot, I think its time for me to jack off to these pictures to make up for time lost with Foxy Angel! Be sure to check back tommorow, because I have something in store you for all that show's off Foxy Angel's "innocent" side!