Hey all,
I've got some hardcore tranny fucking lined up for you all today! This fuck-fest is something a little special, because I've snagged us a guest-guest star. Sound confusing? Well, don't worry, your buddy Phil will explain what I mean. As you all know, I'm a big fan of that rocking shemale website Foxy Angel Shemale Goddess, as well as its star, Foxy Angel. What a lot of people don't realize, is that they feature guest trannys over there! So today, I've decided to feature one of their sexy shemale guests right here on TS Seduction. So, we can consider her a "guest-guest" star, can't we? 😀 Anyways, to the tranny herself, her name is Laura and her lucky lover is Chad. We join them as they are about to get down and dirty, which is just about the best time to join any couple such as this! I'll let the pictures speak for themselves as I think I've blabbed enough for the moment!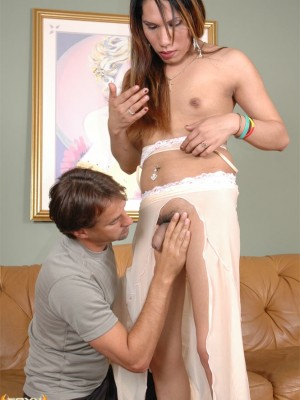 After getting Laura's tranny cock hard by fondling it in his hand, Chad proceeds to lick and suck it, gently at first, but gradually getting harder and faster.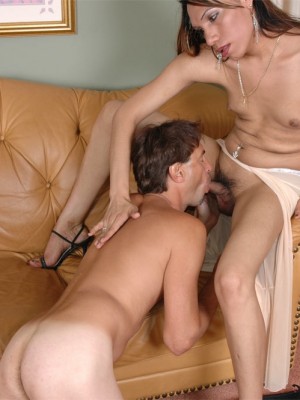 Being the caring shemale that she is Laura rewards Chads oral gift with a gift of her own. She bends him over and shoves her tranny cock deep into his willing ass, pounding him fast and hard, brinding her close to orgasm!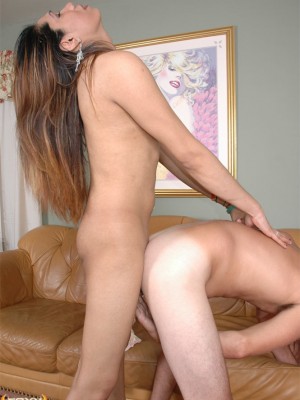 After pounding his ass for a good while, Laura decides its time to blow her load. Chad decides to be a good boy and upon his mouth so Laura can blow her shemale wad down his throat.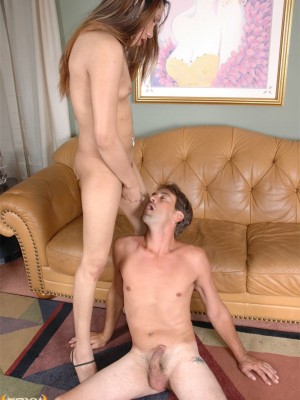 How many people would like to be in Chad's place in the above photo? I sure know I would! 😉