Hey shemale lovers,
Have I got a special treat for you 😉 . If you're a follower of my blog (or any good tranny blog for that matter!) you should be familar with that hot shemale Foxy Angel. If by some chance you haven't seen her yet, then definitely head over to her site by clicking here. However, for those of you who have seen her (or those of you who just want some tranny pics right now!), you're in for a special treat! Today we join Ms. Shemale Goddess herself as she gets in her daily work-out at the gym. Foxy Angel loves to box, because it helps keep her firm and toned, something that I'm sure you all love to see in a sexy shemale. What makes Foxy's workout so unique, is that fact that she looks so damn hot just doing it! If you're like me, you probably don't look so attractive after working out 😀 , but Foxy puts us all to shame, in the best of ways!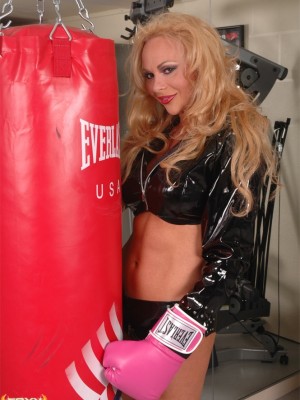 As always, sexy shemale Foxy's tits amaze me as soon as she lets them out. I'm not sure what it is, but I've always been drawn to this tranny's awesome jugs!
If tranny ass is your thing, then this next shot is definitely for you! Foxy bends over to get in some cool down stretches, while at the same time showing us her firm ass. Her workout is doing its job for sure!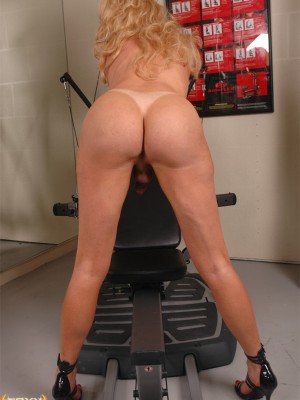 Now that she's stripped herself down to just her high heels (boy this shemale has talent to work out in those!), Foxy decides its time for a little bit of relaxation. So, naturally, she gives herself a much deserved jack off session.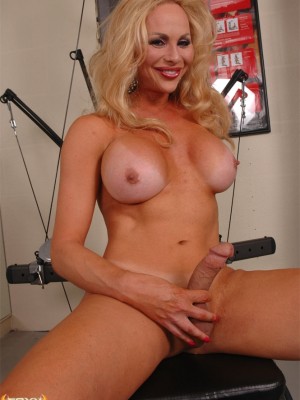 Working out normally isn't a whole lot of fun for me. But I can say this much, if I could get a shemale work-out partner as hot as Foxy Angel, I'd be working out 2 times a day 7 days a week!