Today's tranny babe is another guest star from over at Foxy Angel Shemale Goddess, this time around we're featuring the incomparable Roxane. We join Roxane and her newest boy toy during some private bath time fun. Though this is normally a ritual that's strictly behind closed doors, Roxane was kind (and kinky) enough to let us be dirty little voyeurs and watch her in action. For those of you who don't know Roxane, you won't be disappointed. Like all the babes at Foxy Angel's site, Roxane is loaded with big perky tits and a nice massive tranny cock. Every little thing about Roxane just makes you want to dive right in the tub with her and run your hands all over her body. While I can't quite bring you that, I can bring the next best thing, a front row seat to the action. Enjoy!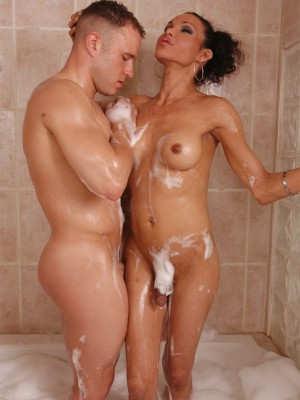 After getting nice and soapy, Roxane sets down and lets her boy toy suck on her perky tranny tits.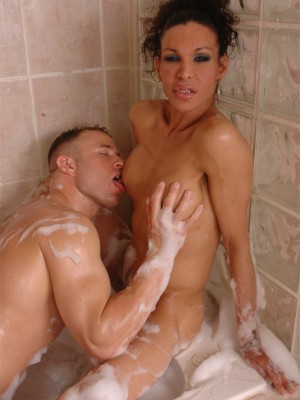 Things are starting to get hotter than the bath-water! Roxane slides her shemale cock into her boy toy's mouth then gradually forces it down his throat.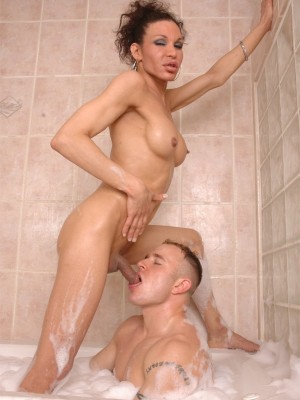 Like all good trannies, Roxane ends her bath time fun, with some nice hardcore transexual ass fucking.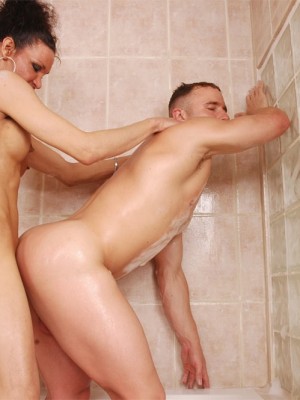 Well, I'd love to stay and chat, but I just got the sudden urge to go take a nice hot bubble bath myself! 😉