Hey People!
Ladyboy Mint from Long Mint is our shemale goddess for the day. We're taking a little breather from our hardcore shoots the past two days, but I assure you, that this is one set you won't forget! We join Ladyboy Mint in the kitchen, as she prepares some vegetables for an afternoon snack. What makes this seemingly ordinary scenario so damn sexy, happens to be what Mint is wearing. She's donning some nice tight white stockings as well as a cute little skirt and top, that really round off the whole "innocent little shemale" look. But as I'm sure most of you know, Ladyboy Mint is far from innocent, in fact she is down right naughty. So take a look at this sexy little tranny below and get ready for some fun!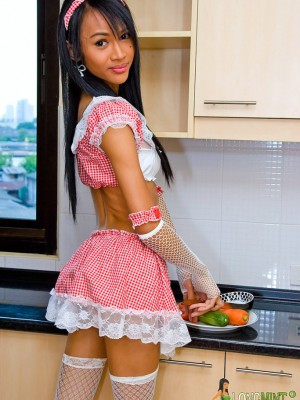 Now that you've got to take in just exactly how hot Ladyboy Mint is in her outfit, its time to get a little naughty. Mint bends over, giving us a very nice view of her awesome tranny cleavage.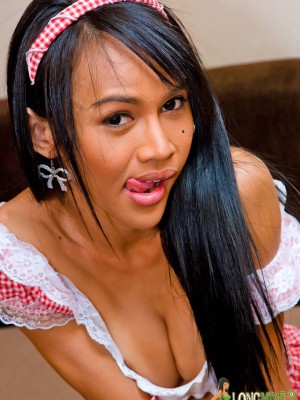 If you couldn't tell by that last picture, Ladyboy Mint is getting a little bit hungry (and horny 😉 ). But before eating her snack, Mint decides to get naked, increasing both her and our pleasure!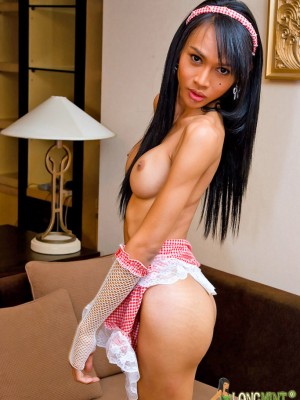 Oh-oh! Looks like our Ladyboy hostess got a little bit side-tracked and instead of eating her vegetables, she got a little naughty with them. I'd love to lick that dressing off of her hot tranny body!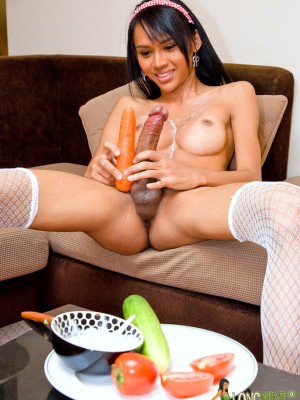 That's one big carrot, but Ladyboy Mint's shemale cock is bigger! Of course when you're packing a nine inch cock like this fine shemale, few things are bigger!