Anchors away!
Today's girl is Ladyboy Mint from Long Mint, and she is prepared for one heck of a sea cruise. I'd give just about anything to a be on the ship that this hot Asian Shemale is about to board, because it looks like its going to be one wild ride! I'm sure most of you would agree that a hot sailor babe, can really turn a person on. So its only natural, that when that babe happens to be a shemale that things are going to get just a little bit crazy. And by crazy, I mean crazy in the most sexually awesome of ways 😉 . Ladyboy Mint really does her sailing outfit well, especially with the wavy curls she's put in her hair. All you'll have to do is take one look at her and you'll want to strip her down and well.. I'll let the pictures speak for themselves..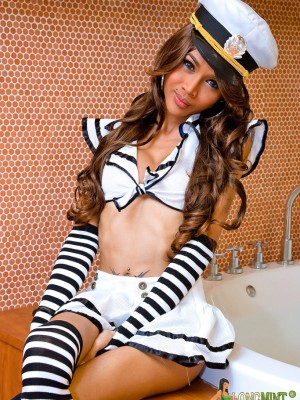 Looks like that tiny sailor skirt of Ladyboy Mint's, held an even more tiny little thong underneath it. The thong makes her tranny ass looking even better as she strips it off.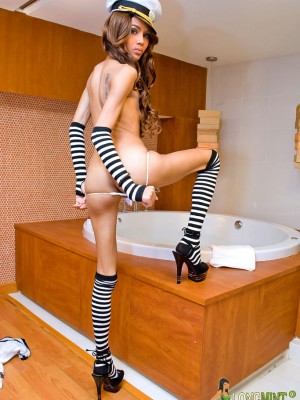 As I'm sure you've noticed, aside from her big 9 inch shemale cock (pic up next!) one of Ladyboy Mint's defining features is her perky tits. She does us a big favor by squeezing them nicely together for us like a good sailor in this next shot. Its almost like she can read our minds!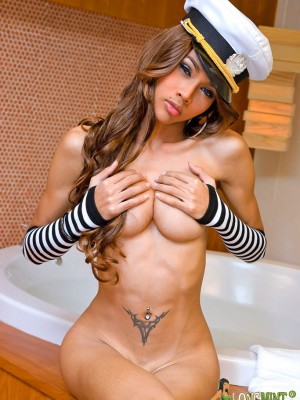 As promised, our transexual sailor whips out her legendary ladyboy cock and begins to pound one out with her hands. As a sailor Ladyboy Mint needs to keep in shape and I can think of no better way than a good tranny jack-off session!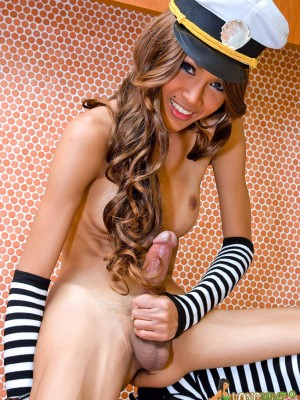 I think our ship has come in, don't you all agree? I need to take a swim to cool off after that set, maybe I'll get lucky an a shemale sailor as hot as Mint will join me! 😉