Hey,
I've got something extra dirty for you all today, and it involves that shemale babe we all know and love, Foxy Angel. As always, once your done checking her out here, I recommend heading over to her personal website Foxy Angel Shemale Goddess, for some brand new hardcore shemale action! Foxy isn't riding alone today though, she's got her sexy tranny counterpart, Roxy, to make things two times as hot. Because as we all know, two shemales is *always* better than one 😉 . Foxy and Roxy are two hot and horny transsexual cops who have just been charged with escorting an unruly prisoner between two cell blocks. However, as you may guess, this won't be a usual transfer, as this poor prisoner is subjected to some hardcore tranny domination along the way!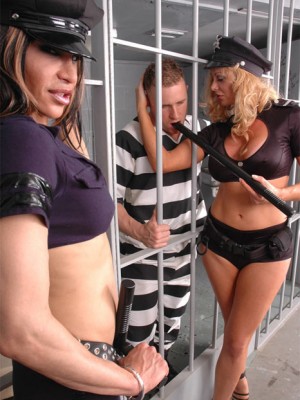 After finding their newest bitch, shemales Foxy and Roxy decide to "rough" him up a bit in his cell, they start by forcing him to suck Roxy's tranny cock.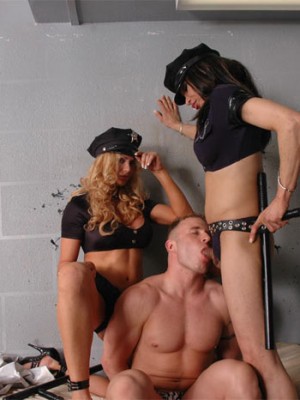 Partners have to share responsbility right? Well these two tranny cops know that all too well, so naturally, its soon Foxy's turn to get her tranny cock sucked. However, Foxy takes it to the next level by forcibily skull fucking the inmate.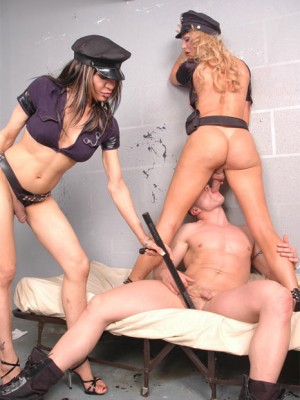 After having their shemale cocks sucked nice and dry by the prisoner, the two tranny cops decide they have just enough time for a good ass fucking before the move. Foxy being the ranking officer goes first, and she really lays it onto him hard, tranny style.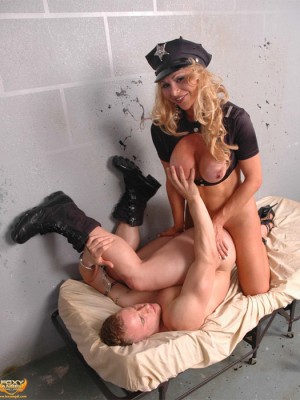 Nothing like two hot shemales to make something as boring as a prison transfer extremely sexy, eh fellow tranny lovers?