Hey all!
Foxy Angel is back again here at Tranny Seductions, this time we catch her during some private time alone in the locker room. The thing is, if you haven't noticed by now, most horny shemales, like Foxy herself, love to get wild, even when they are all alone. Luckily for us, we've got a sneak peak right into this sexy shemale's "private" time. If you like what you see, then I'd recommend hitting up Foxy's very own personal site Foxy Angel Shemale Goddess. After working out, whats one of the first things we want to do? That's right, take a nice shower, and in order to take a shower we need to get undressed, right? Well, Foxy has given us the pleasure of seeing a sexy shemale strip down after a nice long workout. Because even sexy transsexuals need to keep their bodies fit and toned, which as you can see, Foxy's is in very nice shape indeed! 😉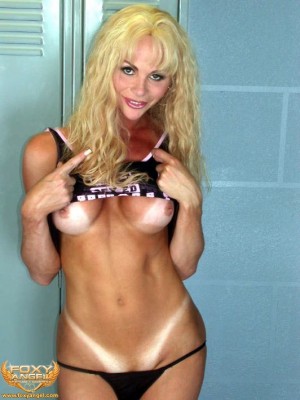 After sliding her panties off, Foxy decides to be a bit sexy for us and slides her top down and off nice and slowly, allowing us time to take in her big tranny dick.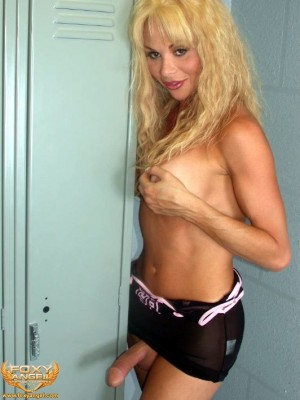 Like all of us, Foxy loves to give into desire. So naturally, in the process of sliding off her top, her hand finds its way to her now throbbing shemale cock.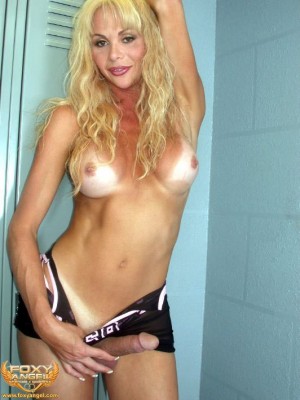 Looks like Foxy really wants to go all the way with this one, because soon she's on the floor beginning to jack herself off.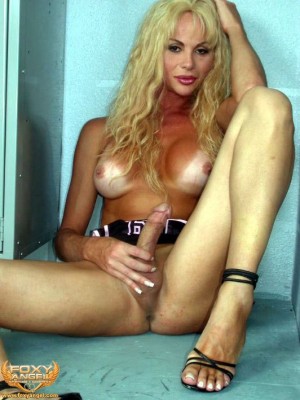 Peaking into the private life of a Shemale Goddess can be a lot of fun can't it? Its always fun to watch a hot shemale jack herself off, but I think you all would agree, that it'd be much hotter if we were there to do it for her! 😀