Hey people,
Today's sexy shemale is an asian Ladyboy straight from the collection over at AsianTS, the largest Ladyboy collection on the net! Her name is Bee and while she might not sting like one, she certainly is a hell of a lot more hot! Ladyboy Bee has naturally red hair, something I love to see in a shemale, as well as natural big perky tits. All these things are nice of course, but Bee also packs a big hard tranny cock, which as we all know, is the most important thing of all. Bee must be feeling pretty generous, because today she is showing us not only her perky tits, but she brings out the whole package (literally!) and lets us admire her huge ladyboy cock.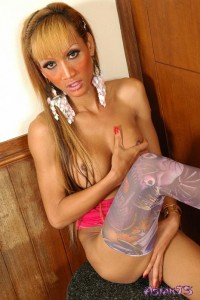 After getting herself nice and warmed up by playing with her tits, Ladyboy Bee lets her cock hang out on the bed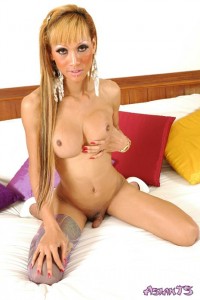 Now things get really fun! Bee's tranny cock is nice and hard and as she teases her nipples it just continues to grow and grow.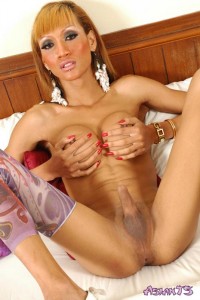 Unable to restrain herself any longer, Ladyboy Bee slides her fingers down and around her throbbing tranny cock.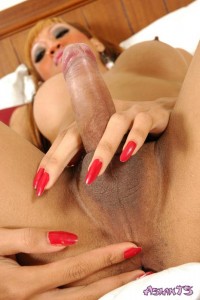 Ladyboy Bee is definitely what we can call a "people-pleaser" because when she pleases that tranny cock of hers, she really pleases us all! 😀